Welcome to North London Outdoor Group (also known as Barnet YHA Group)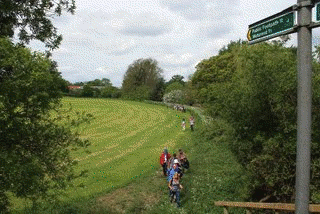 We organise:
About 15 walking weekends away throughout the year
About 20 weekend day walks throughout the year
About 20 summer evening walks from late April to early September
About 50 Tuesday evening social events for members
We currently have about 75 members in the age range 30s to 50s and above, living in North London and Hertfordshire. Whether you live in the North London/South Herts area or are just here temporarily, you are welcome to join us to explore the countryside of England and Wales.


For weekends away and most day walks, we organise car sharing or you can make your own travel arrangements if you prefer.
For weekends away, we book accommodation for you.
we are affiliated to YHA (England and Wales) and for most weekends away, we use budget YHA accommodation, often with a further discount, so our weekends are more affordable
For day walks, we normally meet outside Barnet Everyman cinema (formerly Odeon) and share cars to travel to the start of the walk.
Our Tuesday evening activities include barbecues, games, guest speakers and quizzes. You can also find out about forthcoming events and pick up a free printed copy of our monthly newsletter.
You can try out the group by joining us on any day walk or evening walk listed in our Programme of Events. Unless stated otherwise in the programme, you can simply turn up on the day with no need to book in advance. You can also find details of membership in About Us > Membership Details

You can also find us on Facebook http://www.facebook.com/northlondonoutdoorgroup
Sign up for selected walks on Meetup http://www.meetup.com/North-London-Outdoor-Group


Site last updated Fri, 10 Aug 2018